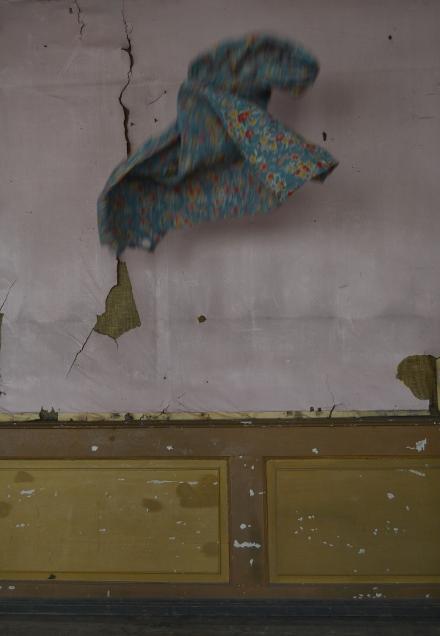 Even though we both come from Umeå, we had never met before we both started at the Art Academy in Trondheim. It was the place that made us good friends and colleagues.
During the study period, we did i.a. a video / performance together; "In between". In it we braided our hair together. We sat back to back and braided our hair together in two braids, one on each side, Maja's dark hair together with Ida's light.
At that time we shared studio.
Many years have passed since then. Ida now lives in Umeå and Maja in Halden, Norway.
In 2017, we decided to work together again. Our collaboration started with digital studio visits via Skype, which at that point felt very new. Postpandemic it´s nothing amazing about it anymore.
Anyhow, the studiovisits resulted in the following project. In 2018, we carried out an artistic chain letter online, between each other. It all went on for a limited time by following the year, one "letter" per month. Each month consisted of one week of work, effective time, performed in whatever medium, material, theme, etc. that each artist wanted. Via Skype, we reported on the previous month's work and process for each other. Then we also exchanged works of art, so I got Maja's work as a starting point for next month's work and she got mine. One led to the other like braiding. To start in January, we both started from the work "In between" which we did together in Trondheim. At the end of the year, we had a total of 24 new works.
We both have, in our own eyes, a slow process that was put to the test through the time pressure that the project brought. We wanted to investigate what would happen if we increased the production rate and were forced to finish a new plant every month. We wanted to examine what happens when we focus on the artistic process as an eternal ongoing and not a pursuit of a single work. The distance between us was also a challenge, we also investigated what it is like to work in collaborative projects online.
The result: At the end of the year, we had 24 new works that we showed in the homes of 12 artists.
------------------------------------------------------------------------------------------------
"Maja Sjöström, born 1980 in Umeå. Lives and works in Halden, Norway.
She works with painting, textiles and yarn in two-dimensional, three-dimensional installations and performance. The story is in focus. Through the yarn, Sjöström tells stories with an exact precision of the thread, more or less figuratively, about life and nature's change and transience. Her work takes place in the room, a crocheted man sits on a chair, with a child in his arms and behind him stands another. Sjöströms knitted paintings are as precise as if they were woven. The stationary movement as a snapshot. Her expression through performance has been together with the crocheted works with song and performed in the exhibition room."